Game changing all-in-one online backup & cyber security
Get the best cyber protection solution that integrates backup, disaster recovery, AI-based malware protection, and endpoint management all-in-one solution
Get Free Trial
Capabilities designed for modern protection
Acronis Cyber Protect is the only solution that natively integrates cybersecurity, data protection and management to protect endpoints, systems and data. Unify data protection and cybersecurity to protect all data, applications, and systems
Stay ahead of modern cyberthreats with award-winning anti-ransomware enhanced with anti-malware capabilities that complement your clients' antivirus. Prevent data leaks via local channels
#CyberFit Score
Vulnerability assessment
Active protection
Antivirus and anti-malware protection without local signature-based detection
Device control
Minimize data loss across your clients' infrastructure and workloads with the best backup and recovery technology, available in consumption-based or per-workload licensing models
File backup
Image backup
Application backup
Network shares backup
Backup to cloud storage
Backup to local storage
Centralize your protection management and provision endpoints in minutes. Remotely assist clients and assess system vulnerabilities and security gaps. Increase visibility with built-in monitoring and reporting
Group management of workloads
Centralized plans management
Remote desktop
Remote assistance
Hardware inventory
Get clients back to business in minutes by instantly spinning up systems in the Acronis Cloud and restoring them anywhere, ensuring immediate data availability. Make disaster recovery painless and increase efficiency with orchestration, runbooks, and automatic failover
Disaster recovery for physical and virtual workloads
Production failover
Site-to-site VPN connection
Near-instant RPOs and RTOs
Execution monitoring
Point-in-time recovery
IPsec multisite VPN support
Custom DNS configuration
Acronis Cyber Files Cloud provides office and mobile users with safe file access, sync, and share in an easy-to-use, complete, and secure hosted cloud solution. Easy to sell and implement, Acronis Cyber Files Cloud expands your product portfolio and helps you quickly attract new customers, realize incremental revenues and reduce customer churn
Transform a team's mobile devices, including BYOD, into a secure and comprehensive collaboration platform
Respond faster to critical business events and customer inquiries, improving customer service
Know where business data is at all times with a complete audit trail of what end-users are doing
Increase productivity and collaboration by enabling employees to easily share data and files with colleagues, customers, and partners
Enjoy peace of mind knowing that data is stored in a secure cloud infrastructure
Acronis Cyber Notary Cloud is a blockchain-based service for file notarization, e-signing, and verification for organizations of any size. It creates a digital fingerprint for files and stores it in a public blockchain ledger, which enables independent validation of its authenticity and proof the file existed at a specified date and time
Notarization Service
Users can notarize files of any type and record it in the blockchain ledger
E-signature Service
All required parties can electronically sign files online with embeddable e-signatures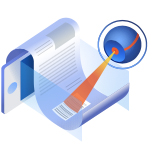 Verification Service
Once a file is notarized, confirmation is available via any device
Unleash industry-proven protection for your business
AV-TEST participant and test winner

2020

VB100 certified

2020

ICSA Labs Endpoint Anti-Malware certified

2020

AV-Comparatives participant and test winner

2020

MRG-Effitas participant and test winner

2019

Anti-Malware Testing Standards Organization member

2020

VirusTotal member

2020

Cloud Security Alliance member

2020

Anti-Phishing Working Group member

2020

Microsoft Virus Initiative member

2020
The traditional stack of endpoint protection products lacks integration and requires much more time for management – maintaining licenses, installing updates and patches, verifying compatibility after updates, and managing multiple policies using a variety of different user interfaces
Acronis Cyber Protect offers one agent, one management interface, and one license – removing the complexity and risks associated with non-integrated solutions
Traditional antivirus and backup solutions are unable to protect against modern cyberthreats. Antimalware solutions that are not-integrated with backup are unable to recover data and lack the ability to detect threats in a secondary backup copy of data. Backup that is not integrated with antimalware is vulnerable to modern ransomware strains that disable and corrupt backups
With Acronis Cyber Protect, an AI-based threat detection engine leverages backup data to improve detection rates and avoid false-positives. The integration of advanced antimalware and backup enables the automatic recovery of corrupt data. Backups are protected against attacks on the agent and backup files, ensuring the data is clean. The automatic detection, prevention, and recovery streamline your operations – reducing both the number of support calls and the time spent on each incident – making your team more efficient
A complex, non-integrated stack of endpoint solutions requires more time to learn and support, and does not benefit from integration and automation
Unifying multiple protection technologies into one solution not only increases its reliability, it also decreases the time needed to learn, deploy, and maintain the solution. With Acronis Cyber Protect, you get one integrated solution that delivers complete protection from today's threats – enabling you to streamline management, cut unnecessary administrative time, and lower TCO
100% detection rate
In the VB100 certification test, Acronis detected 100% of malware and had 0% false-positives.
0% false positives
In the AV-Comparatives test, Acronis was one of only four solutions with zero false-positives
100% high performance
In all eight performance categories for AV-TEST, Acronis demonstrated either a Very Fast or Fast performance rating
Expand your services with advanced protection packs
Add other powerful components to strengthen your services even further with advanced protection packs and unique cyber protection capabilities. Control your costs by paying only for the functionalities your clients need. Advanced packs include:
Advanced packs include:
Enhance your security services with integrated cyber protection that includes full-stack anti-malware. Increase your detection rate and responsiveness to the latest cyberthreats. Extend cyber protection to web browsing, backed-up data, the recovery process, and exploit prevention. Enable investigations by capturing forensic data in backups
Full stack anti-malware
URL filtering
Exploit prevention
Strengthen your data protection services by ensuring clients never lose data, even between scheduled backups. Extend backup capabilities to SAP HANA, Oracle DB, and application clusters. You can also gain visibility for the protection status of all data across your clients' infrastructure
Continuous data protection
Data protection map
Scheduled backup reports
Streamline vulnerability management and promptly close gaps in your clients' IT infrastructure through patch management. Gain visibility into your clients' software assets and data protection to ease daily tracking and planning tasks, and improve clients' uptime by monitoring disk drives health
Patch management
Fail-safe patching
Disk drive health monitor
Get clients back to business in mere minutes when disaster strikes by spinning up their systems in the Acronis Cloud and restoring them anywhere, ensuring immediate data availability. Make disaster recovery painless and increase efficiency with orchestration, runbooks, and automatic failover
Disaster recovery orchestration
Production failover
Site-to-site VPN
Make a Reliable Cyber Protect Services with our Strategies at Businessware
The cybersecurity maturity model will offer the path forward, and it will also enable the enterprise to access where it is in the desired direction periodically. Cybersecurity is the journey, and it cannot be the destination. The security product is good on how well it is implemented and managed. The security process is good on how you will adhere to it. At businessware, a leading Cybersecurity solution in Dubai, following the consultative approach to cybersecurity maturity help you get there without any hassles
Our key features: We have our set of key features that will enhance Cyber protect for websites
Industry vertical intelligence
Custom business and the technical use case development
Regional and the global threat awareness
Customized dashboard
Round the clock monitoring and support service
Guaranteed service level agreement
Affordable cost of ownership
Accelerated security intelligence
A successful cybersecurity approach comes with many layers of protection through the programs, data, network or computers. If you are worried about Cybersecurity, you are at the right destination to have Cyber protect services in Dubai. Talk to our technical team to process the cybersecurity process
Protect everything you have worked hard with our cloud backup service
Safeguard and protect all your business details and data with automatic backups, easy recovery, ransomware and antivirus protection. We offer a centralized backup service and solution worldwide to protect against various malware cost-effectively. With our Cloud backup services in Dubai, you can keep your information safe and secure and access it from anywhere at any time. We always make it easier for defining backup policies and protect various enterprise workloads.
Who we are
We are a secure and one-click Cloud backup that is scalable based on your backup storage requirements. If you are looking to recover past things, you can use our online cloud-based solution to keep your business running smoothly. Being the best provider of backup solutions for organizations of every size, we offer the Best cloud backup solution that helps organizations protect information. We also provide greater operational efficiency and scalability for digital transformation in the Cloud. You will significantly benefit from data protection and cloud backup by approaching us.
Why choose us
Being the best Cloud backup services and solution provider in the industry, we help our clients to recover and bounce back faster from any word case scenario. Whether it is a simple human error, disaster, a stolen laptop or ransomware, we fail to offer peace of mind for your clients. We have many experts with much technical staff to provide our clients with the best and more satisfying outcome.
World-class protection
The foremost important thing for every enterprise is to secure all the virtual office and clients' information. We always follow the strictest standards for data security, so all your data will be safe and secure with our service. We also allow our customers to control how long we keep their deleted files.
Flexible solutions
We offer more flexible software and technology which can be mixed and matched to build customer cloud backup solutions. Every organization that approaches us is ended up with flexible and convenient results as more than their expectations. We can back up all your devices and hard drive files effectively at the possible duration.
Faster backup
We have a team of experts who are well trained, especially in this field, to provide faster backup for your customers. We can significantly accelerate cloud backup by following the standard and advanced technology. We are always on and continuously update your backup of all your files, data and other information instantly.
Massive scalability
Our backup solutions are highly scalable and designed for any size cloud infrastructure. We always provide a Cloud backup solution to handle large numbers of instances and backups. We even enable a reduction in required backup hardware and offer the best support at all aspects to every client who approaches us.
Ease of use and cost savings
We always make Cloud data management and Cloud backup Arab emirates easier. With a powerful policy engine, we help automate processes and reduce the time that an IT staff should spend. Also, you can get a combined package of faster backups, easier management and less hardware with significantly at the reasonable cost of Online backup.
Benefits of cloud backup
So you are interested in us but still need some of the finer details before you make your decision? With cloud backup, you can protect everything for your business and run again quickly if something happens.
Comprehensive reporting
Could backup UAE generates real-time reposts, including stored data usage, backup history and plans, individual device usage, and more. Comprehensive reporting will help to run the business smoothly.
Service and device protection
Online backup ensure you have everything backed up in one place and lets you safeguard all the essential changes since your last full backup. If any disaster strikes, all your information and device will be protected.
Real-time alerts
you will receive emails with updates on cloud backup that have failed, missed schedule, or successfully completed. With a real-time alert of the Best cloud backup service, you will never miss any updates.
File restoration
when all your information is lost or becomes corrupt, backed up data can be viewed and restored directly. Cloud backup Arab emirates will also restore a specific version of a file you have backed up.
OK
Omar koki

"Very good RDP services its help us to ignore some problems for covid-19 Dubaihosting Buzinessware – Managed Cloud Specialists thank you for sales team and thank you Chintamani"
JJ
Joel Joel

"Excellent support. the company moved to buzinessware for hosting its website. support staff is great! and they give attention to problems reported to them and solve them as fast as possible. kudos!"
SS
Sammy Shaf

"Certificate renewal request was made. Chintamani from businessware was very quick and attentive in the chat. He immediately provided the answers to all my questions and help resolve the issue. Great work."
MT
Mohammed Tanvir Hossain

"I appreciate your quick response and follow up on the issue until it resolves. Thanks for the best professional assistance as expected. Excellent 24/7 customer support and very much supportive and friendly staff. That makes this company the first choice for cloud hosting in UAE"
SE
Sameh El Afifi

We experience a very good service from Buzinessware in UAE, we really appreciate their 24/7 support and quick professional responds. Since we start using the service, we never experience any service interrupt or bad quality
AS
Arif Saiyad

"Great Service, very reliable. Been working with European based service providers, and comparatively, found BW to be far ahead in terms of customer service and prompt response. Love the 24 hour availability. Keep it up guys"
FAQ
What types of backups can backup create?
By approaching us, you can create both full and incremental backups. Additionally, you can also create full image backups, file copies and disk copies.
Are cloud backup and cloud storage are same?
There is some difference between Cloud storage and cloud backup. Cloud storage is used to store only data of various types, where cloud backups mean it is not only files that can be backed up but also complete system statuses. Cloud backup allows you to restore to a secure and stable operating state quickly.
Which is the best backup routine?
There is nothing like a specific backup routine since the backup routine entirely varies on various factors. You can set your time interval based on your requirements, like how you work and another process.
What are common cloud backup use cases?
Some common use cases are backup to Cloud, long term retention and in-cloud backup. Backup to Cloud is the backup form on-premises infrastructure to the public Cloud where long term retention includes storage for long-term retention and compliances requirements.
Why is deduplication important for cloud backup?
Storing data in the cloud can be expensive, but only a minimal amount of data is required with successful deduplication. Only some amount of data required is backed up to the cloud, which will help to reduce storage costs.